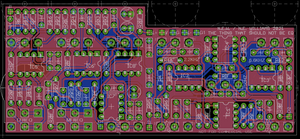 N.E.W. The Thing That Should Not Be
Sale price Price $15.00 Regular price
Mesa MKIIC+ and Aphex semi-parametric EQ designed by Nick Williams
The N.E.W. TTTSNB is a solid-state emulation of the Master of Puppets guitar amp chain.  This ambitious project is split on to two PCB's, one for the preamp, and another for the two EQ circuits.  They can be combined into one pedal or built separately.  
Build documentation can be found here below.  Please read before purchasing.  
Sale is for PCB only.  You must source the components and build the pedal yourself. 
Share your work, get tips, ask questions and help troubleshoot at our Facebook Group.  Don't forget to agree to the group rules if you wish to join.  GCI DIY PCB builders group

NOT FOR COMMERCIAL USE